Astroscale, a company with its headquarters and tour facilities in Sumida Ward, has entered into a collaboration agreement with the district.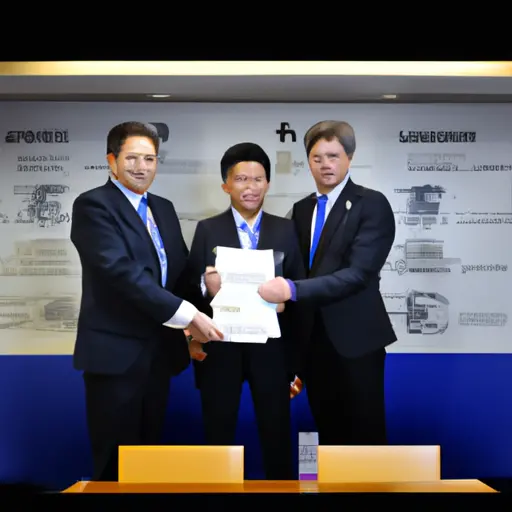 Publication Date: September 28, 2023, 17:40
Astroscale Holdings, a company dedicated to providing orbital services including space debris removal, announced on September 28 that it has entered into a collaboration agreement with Sumida Ward, Tokyo, where the company is based. This agreement was made through its domestic subsidiary, Astroscale, which is responsible for the development and manufacturing of artificial satellites.
The signing ceremony of the collaboration agreement was attended by Sumida Ward Mayor, Yamamoto Toru, Astroscale Holdings founder and CEO, Okada Mitsunobu, and Astroscale President and Representative Director, Kato Hideki. (Source: Astroscale)
Astroscale, founded in 2013, is a private company dedicated to providing orbital services across all orbits to ensure the safe navigation of spacecraft and to pass on a sustainable orbit to the next generation. Since its inception, the company has been developing technologies to realize orbital services, such as debris removal at the end of satellite operation to prevent debris and removal of existing debris, in response to the increasing amount of debris in orbit.
In May 2023, the company moved from its original headquarters in Sumida Ward to the Hulic Kinshicho Collab Tree in the same ward. At that time, Mr. Okada, the founder and CEO of Astroscale Holdings, revealed that this was made possible with the cooperation of Sumida Ward.
The purpose of this agreement is to promote activities through collaboration that effectively utilizes the characteristics and resources of both Sumida Ward and Astroscale, aiming for further revitalization and mutual development of the local community. It involves collaboration and cooperation in providing social collaboration that contributes to the revitalization of the region and experiences that lead to the nurturing of the next generation.
Specifically, they are considering several activities, such as providing free days for ward residents at the "Orbitarium" visitor facility that opened at the new headquarters in July 2023, providing lectures on entrepreneurial spirit and space business by Mr. Okada, and registering Astroscale's hometown tax return gifts in Sumida Ward.
Mr. Kato Hideki, President and Representative Director of Astroscale, said at the signing of the agreement, "Sumida Ward, which was selected as an SDGs Future City in fiscal 2021, is a hub for SDGs and is also proactive in creating innovation. This environment can be said to be ideal for Astroscale, which is working on orbital services with the aim of realizing space sustainability."
Related Links:
Please note that this article is based on information available at the time of publication and may differ from the latest information.
We update daily with information and trends related to the vast universe, popular drones, and other aviation-related topics, as well as hot news. We introduce topics ranging from familiar ones such as rockets, artificial satellites, astronauts, astronomical observations, drones, and air races, to the latest scientific topics such as elementary particles, dark matter, and gravitational waves, with detailed explanations.